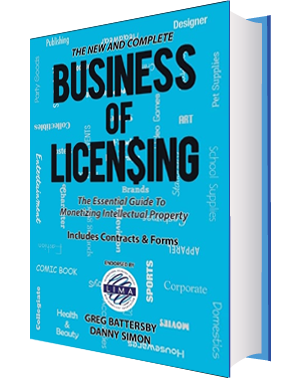 The Business of Licensing
Read The Business of Licensing
The New and Complete Business of Licensing: The Essential Guide to Monetizing Intellectual Property by Greg Battersby and Danny Simon is the cutting-edge and comprehensive licensing industry book that you need to stay up to date with the complexities of licensing today.
Explore The Business of Licensing
The Business of Licensing includes 23 exhaustive chapters and appendices to cover all your licensing questions, including contracts and forms so that everything you need to navigate the licensing process is included. The table of contents includes:
Defining the World of Licensing
History of Licensing
The Licensing Industry Today
The License Agreement
Compensation and Royalty Rates
Identifying and Clearing Licensing Properties
Selecting the Right License for Your Products
The Licensor-Licensee Relationship
Licensing Agents and Consultants
The Retailer's Role in Licensing
Best Practices for Licensors
Best Practices for Licensees
Marketing and Promoting Licensing Properties and Licensed Products
Protecting Licensing Properties
International Licensing
International Intellectual Property Protection
Battersby's Rules on Licensing
Simon Says About Licensing
Ethics and Social Compliance
Most Common Mistakes in Licensing
Special Considerations for Different Types of Properties/Products
Accounting, Auditing and Tax Considerations
Dealing With Infringers and Counterfeiters
We want to provide all our readers with a comprehensive overview of the various facets of licensing. We write with our decades of experience to provide clear and precise information, whether you're a licensor or licensee.